Product Description
Whole Wheat Flour
Ingredients: wheat flour, refined wheat bran, thermally treated rye
Directions for use:Add the wheat flour with other ingredients.
The dosage 10-20% on the flour depends on the recipe.


Whole Wheat & Linseed Toast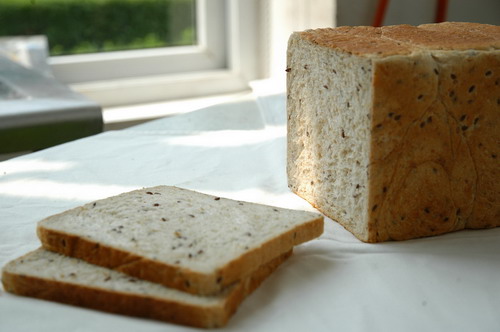 The linseed with richest linolenic acid content in nature and the whole wheat coarse flour with rich wheat bran fibre are particularly added in, thus the product is the best guarantee for the health and the vigor of human body!
Ingredients % kg.g
Bakerdream Linseeds 10 100
Water(30℃) 20 200
Subtotal(dipped in for 2-12hours) 300
Bread Flours 70 700
Bakerdream whole Wheat Flour 20 200
Angel Instant Dry Yeast (Golden) 1.5 15
Angel A500 Bread Improver 0.5 5
Sugar 8 80
Salt 2 20
Rogana 2 20
Water 40 400
Margarine 6 60
Backaldrin Bas-light 1 10
Total 1510
Method
- Mixing time: at low for 3-5 minutes, at high speed for 8-10 minutes
- Dough temperature: 26-28℃
- Proffing period in the middle: 30-40minutes
- Weight of divided dough: 1200-1500g
- When fermenting is finished, bake the bread.
- Baking temperature: 210-220℃
- Baking time: 35-40minutes
Product Image